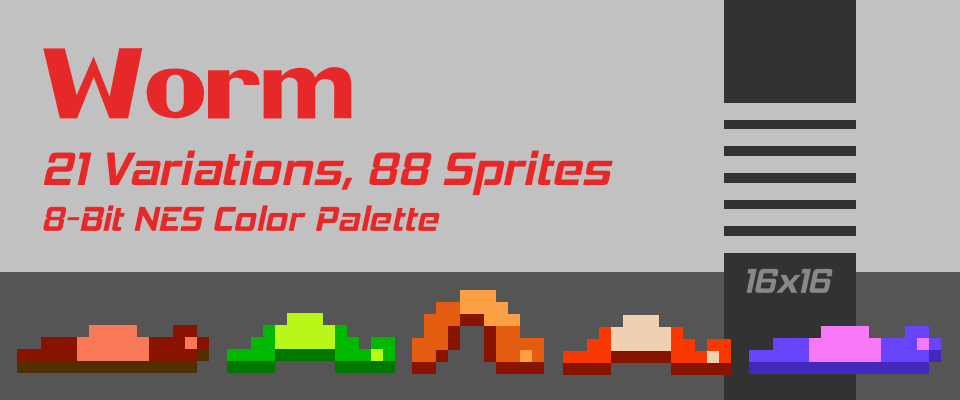 8-Bit Art Pack - Worm Monster
A downloadable asset pack
8bit Asset Pack Worm Monster
Here's a cute or evil worm. Your choice.

Do you need a hero or a heroine to go fishing? Or questing inside that dreadful Earth Temple? Or maybe the planet Zorglaxx ?
Crawling, slithering, creeping, venomous, acidic or inoffensive, here are worms for you!
PACK INFO
All the sprites have been created with the technical constraints of the Nintendo Nes in mind: they use the Nintendo Entertainment System color palette and they respect the 8bit sprites constraints. All sprites size are 16x16 pixels.
Worm has 2 states: - Top(4frames) - Side (4frames) - flip it for the opposite side
Side sprites are 8x16 pixels. Top sprites are 16x8 pixels
RGB Bitmask is included! Perfect for NesMaker projects!
LICENCE INFO
The licence for this Pack is Creative Commons Attribution - CC by 4.0. It means that:

- You MUST credit me as Imogia or Imogia Games as the author of those sprites.
- You may use those sprites for any purposes, non commercial or commercial as you see fit.

If you use my sprites, please post a link to your project, as I'd like to see what you created with them :) You don't need to pay for this pack, but I would be very happy if you choose to give me a small donation :) :)